Arts > Cartoons > Cartoonists > 20th - early 21st century > UK, USA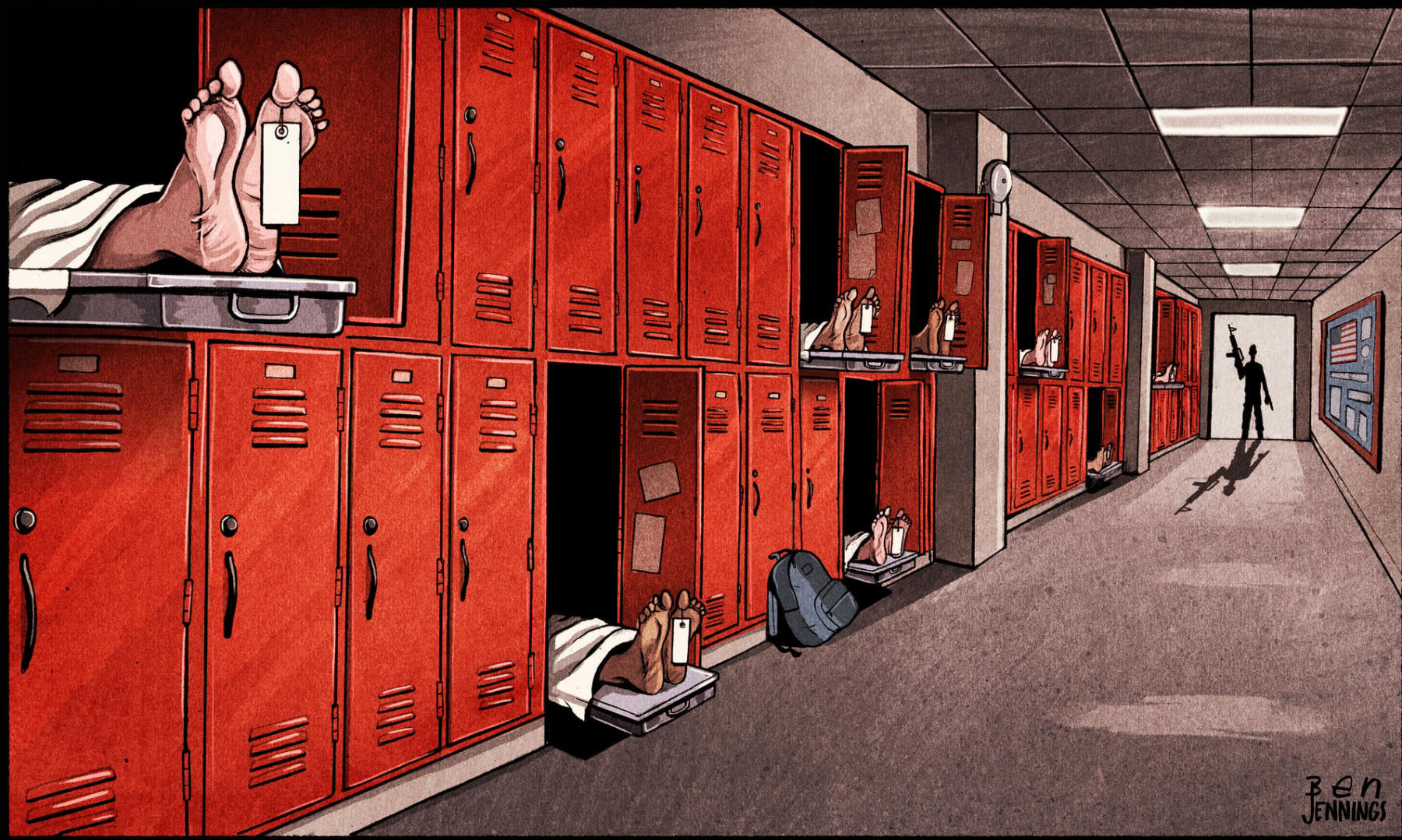 Illustration: Ben Jennings
Ben Jennings on the Florida school shooting – cartoon
G
15 February 2018
https://www.theguardian.com/commentisfree/picture/2018/feb/15/
ben-jennings-florida-school-shooting-cartoon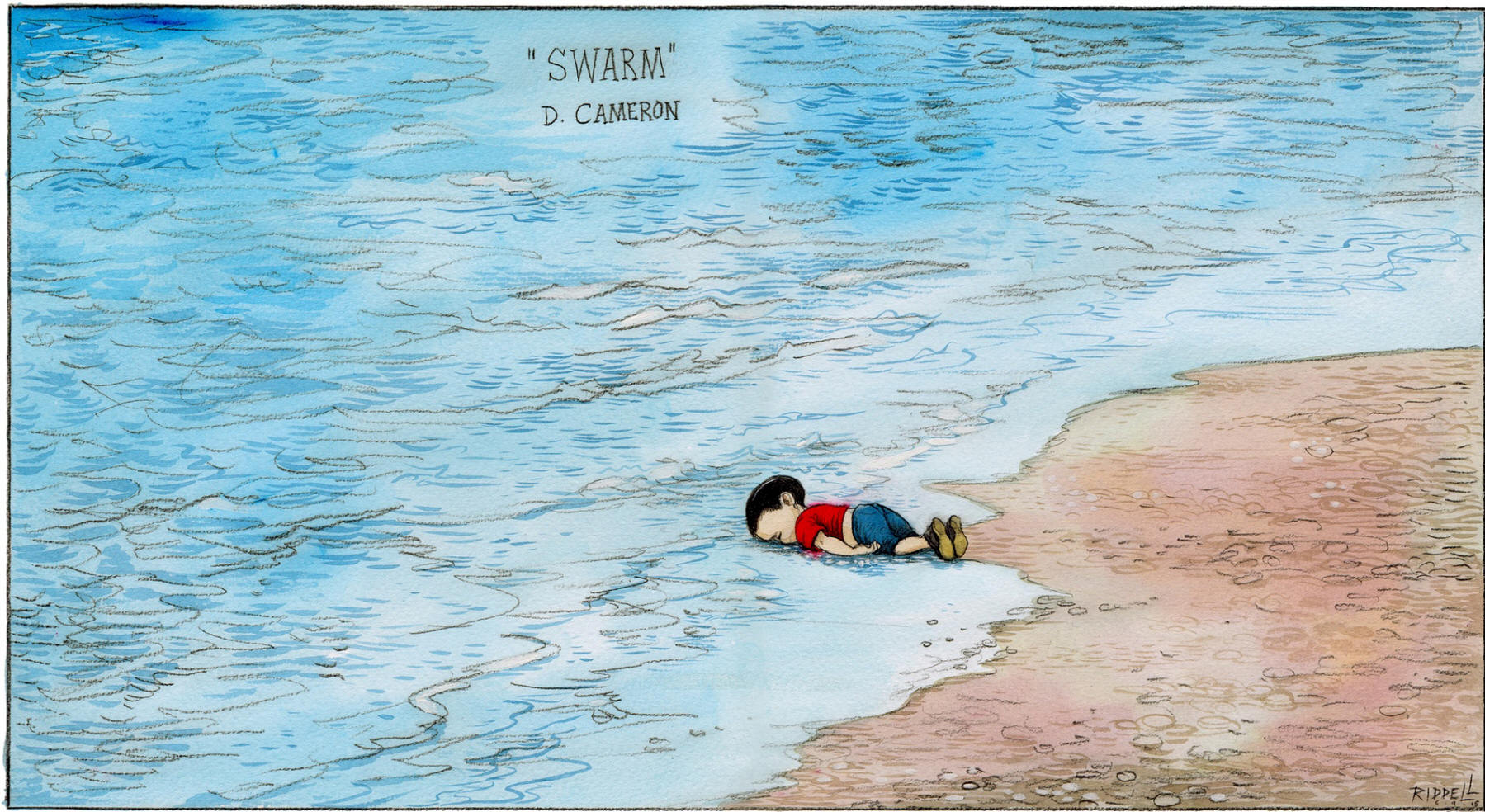 Chris Riddell
Refugee crisis: journey's end for Aylan
Chris Riddell on the tragic death of three-year-old Aylan Kurdi
O
Sunday 6 September 2015 00.05 BST
https://www.theguardian.com/commentisfree/picture/2015/sep/06/
refugee-crisis-journeys-end-for-aylan
Related
https://www.theguardian.com/uk-news/2015/jul/30/
david-cameron-migrant-swarm-language-condemned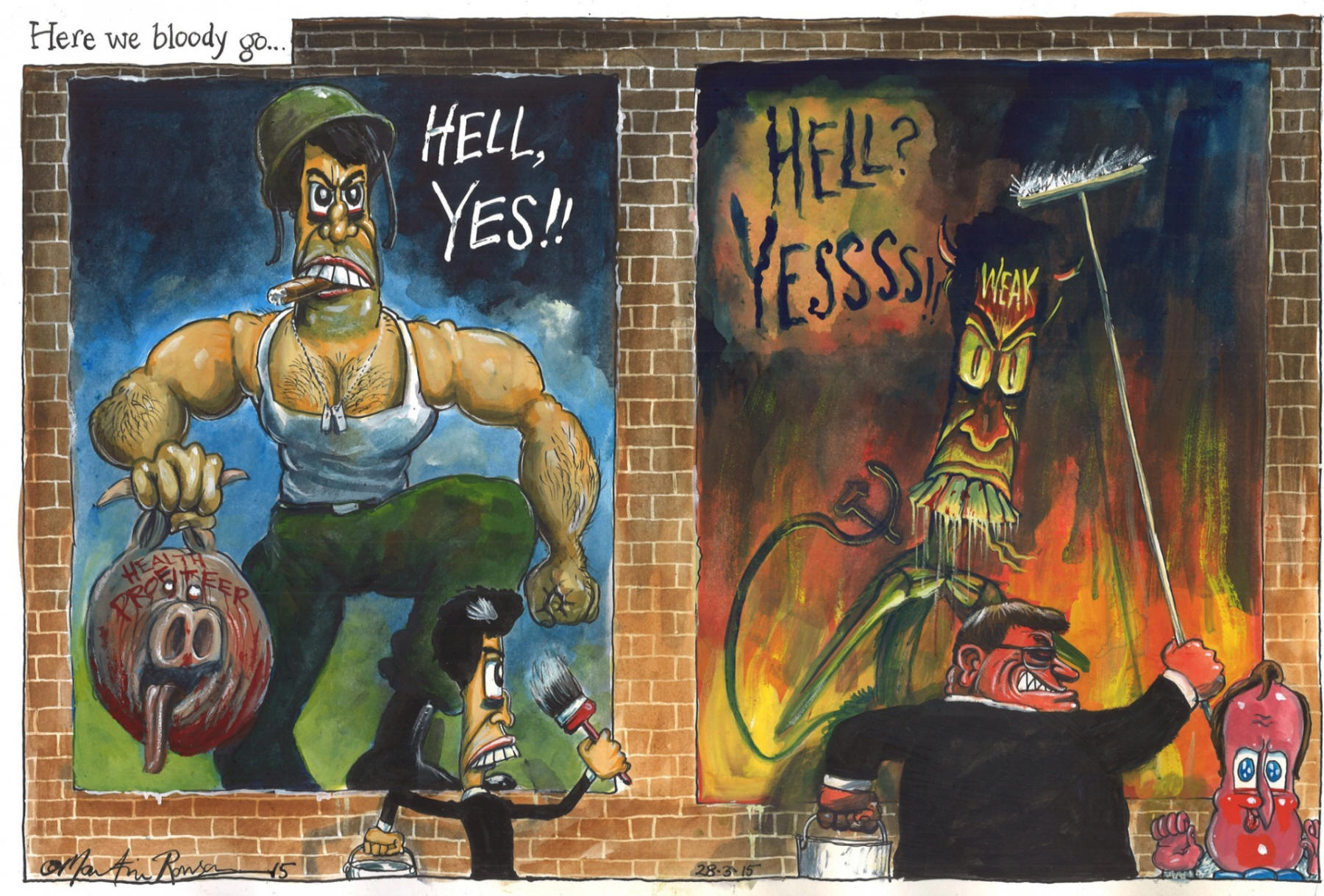 Illustration: © Martin Rowson 2015
Martin Rowson on the start of the election campaign – cartoon
Ed Miliband (left) and David Cameron (right)
kick-off run-up to vote on 7 May,
when one of the two main party leaders
is expected to become prime minister
G
Martin Rowson Friday 27 March 2015 20.50 GMT
http://www.theguardian.com/commentisfree/picture/2015/mar/27/5515bb73e4b04783d0da0092
USA > The New Yorker > cartoonist > Barry Blitt USA
http://www.npr.org/2017/10/20/
558777025/im-just-trying-to-make-myself-laugh-new-yorker-artist-shares-his-cover-stories
Peter Duggan's Artoons UK
https://www.theguardian.com/artanddesign/series/
peter-duggan-artoons
The Guardian > Peter Shrank
The Guardian > Cartoons > David Squires
http://www.theguardian.com/profile/david-squires
The Guardian > Cartoons > Limone Lia
http://www.theguardian.com/culture/series/the-simone-lia-cartoon
The Guardian opinion cartoon > Peter Schrank
https://www.theguardian.com/commentisfree/picture/2017/jul/30/
peter-schrank-on-donald-trump-and-north-korea-cartoon
The Guardian > Sick Notes
Ian Williams's weekly comic strip on the state of the NHS
http://www.theguardian.com/lifeandstyle/series/sick-notes
The Guardian > Martin Rowson
https://www.theguardian.com/profile/martinrowson
http://www.guardian.co.uk/artanddesign/2013/jan/28/
martin-rowson-phill-jupitus-cartoons
http://www.guardian.co.uk/books/interactive/2012/mar/08/
martin-rowson-book
The Guardian > Brian Adcock
http://www.theguardian.com/commentisfree/picture/2015/feb/17/
brian-adcock-party-leaders-tv-debates-cameron-miliband-farage-cartoon
The Guardian > Iain Green
https://www.theguardian.com/profile/iain-green
The Guardian > Ros Asquith > Lines
https://www.theguardian.com/education/series/lines
The Guardian > David Austin 1935-2005
http://www.theguardian.com/news/2005/nov/21/
guardianobituaries.pressandpublishing
The Guardian > Harry Venning > Clare in the community
https://www.theguardian.com/society/series/clareinthecommunity
The Guardian > Ben Jennings
https://www.theguardian.com/profile/ben-jennings
https://www.theguardian.com/commentisfree/picture/2018/feb/15/
ben-jennings-florida-school-shooting-cartoon
http://www.theguardian.com/commentisfree/picture/2016/apr/03/
ben-jennings-eu-turkey-migration-deal-cartoon
http://www.theguardian.com/commentisfree/picture/2015/apr/10/
ben-jennings-on-david-camerons-voluntary-work-proposal-cartoon
The Guardian > Nicola Jennings's caricatures
https://www.theguardian.com/uk/series/
nicola-jennings-caricatures
The Guardian > Andrezj Krauze
https://www.theguardian.com/gall/0,,575866,00.html
https://www.theguardian.com/newsroom/story/0,11718,872212,00.html
The Guardian > Kipper Williams
https://www.theguardian.com/business/series/kipperwilliams
http://www.theguardian.com/business/gallery/2013/dec/11/
kipper-williams-guardian-cartoonist-christmas-cards-2013
https://www.theguardian.com/business/kipper/0,,1844441,00.html
The Guardian / The Observer > cartoonist > Chris Riddell
https://www.theguardian.com/profile/chrisriddell
http://www.theguardian.com/commentisfree/picture/2015/sep/06/
refugee-crisis-journeys-end-for-aylan
The Observer > cartoonist > David Simonds
http://www.theguardian.com/business/2015/apr/05/
uk-pensioners-ready-to-jump-queue-for-property-osborne-revolution
The Independent > The daily news cartoon > Tim Sanders
https://www.independent.co.uk/voices/
the-daily-mails-cartoon-isnt-satire-it-s-dehumanising-bullying-a6739056.html - 18 November 2015
The Times > Cartoons
The Times > Cartoons > Peter Brookes / Morten Morland
Gerald Scarfe > Cartoons > The Sunday Times
http://www.theguardian.com/lifeandstyle/2014/may/03/
gerald-scarfe-cartoonist-this-much-i-know
http://www.guardian.co.uk/media/2013/jan/29/
sunday-times-british-jewish-leaders
The Daily Telegraph > Comment cartoons archive
Cartoons from the Telegraph's comment pages,
drawn by Adams, Blower, Bob and (formerly) Garland.
https://www.telegraph.co.uk/comment/cartoon/archive/
UK > British cartoon archive
Phill Jupitus UK
http://www.guardian.co.uk/artanddesign/2013/jan/28/
martin-rowson-phill-jupitus-cartoons
Monte Wolverton USA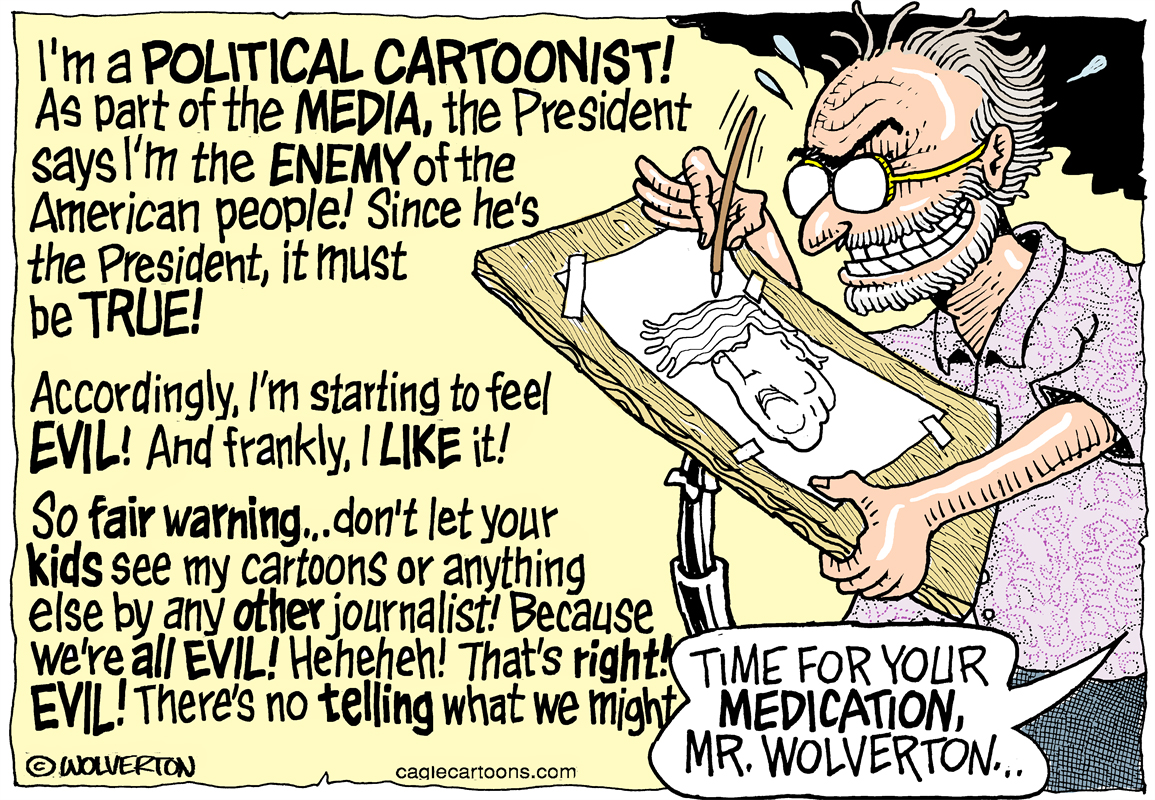 Enemies of the American People
Monte Wolverton
Cagle
July 30 2018
https://www.cagle.com/monte-wolverton/2018/07/
enemies-of-the-american-people#.W2HLFdIzaUk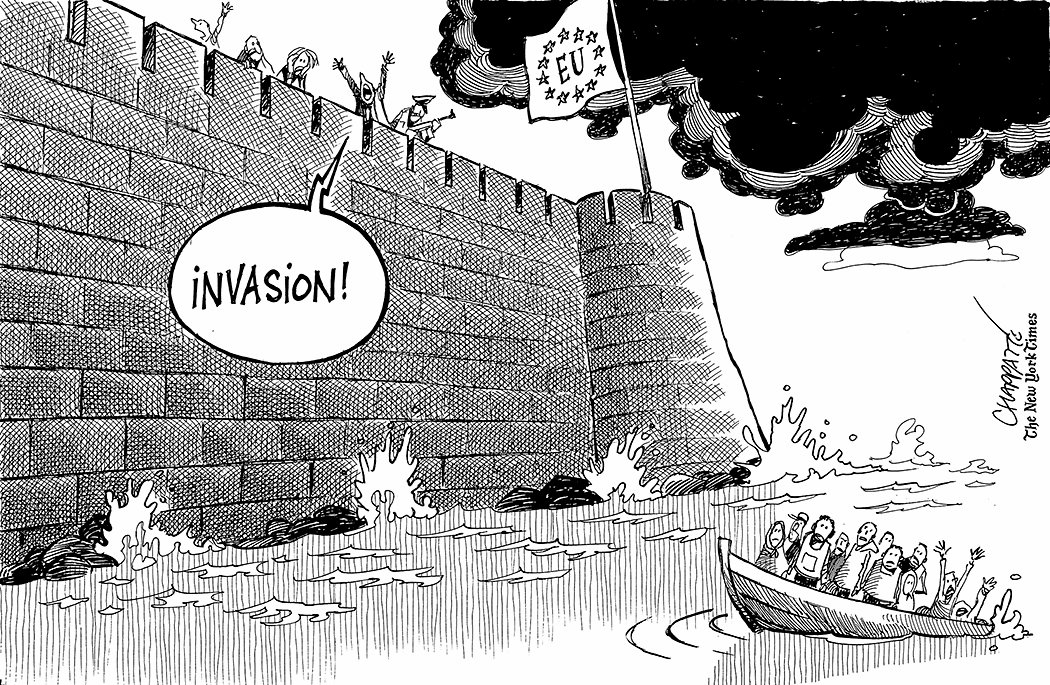 The E.U. Prepares for an Attack Patrick Chappatte NYT July 27, 2018
https://www.nytimes.com/2018/07/27/
opinion/european-union-migration-policy.html
Patrick Chappatte USA
https://www.nytimes.com/column/patrick-chappatte
http://topics.nytimes.com/top/opinion/editorialsandoped/oped/
patrick-chappatte/index.html
https://www.nytimes.com/2018/07/27/
opinion/european-union-migration-policy.html

Dave Granlund USA
http://www.davegranlund.com/cartoons/
Al Jaffee USA
http://www.nytimes.com/2010/10/02/books/02jaffee.html
Rob Rogers USA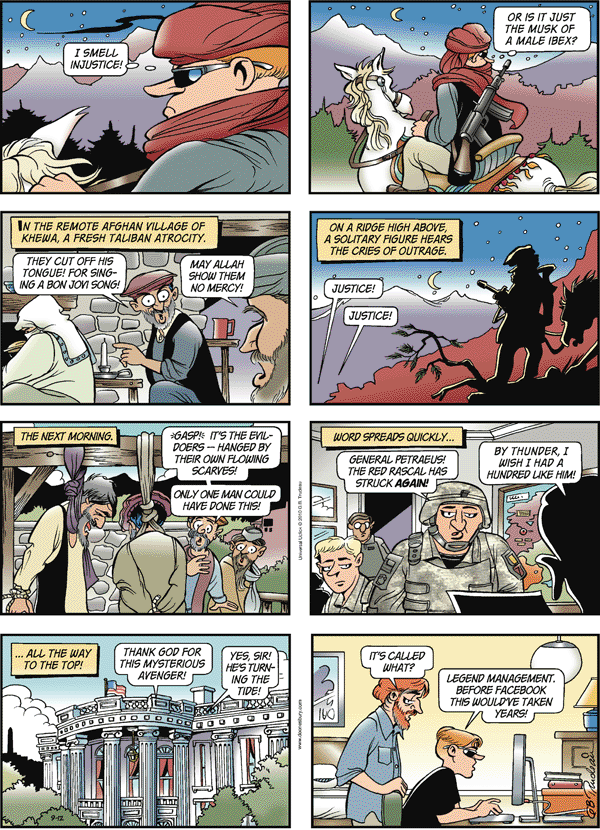 Doonesbury
12 September 2010
Garry Trudeau
Slate
http://www.doonesbury.com/strip/archive/2010/09/12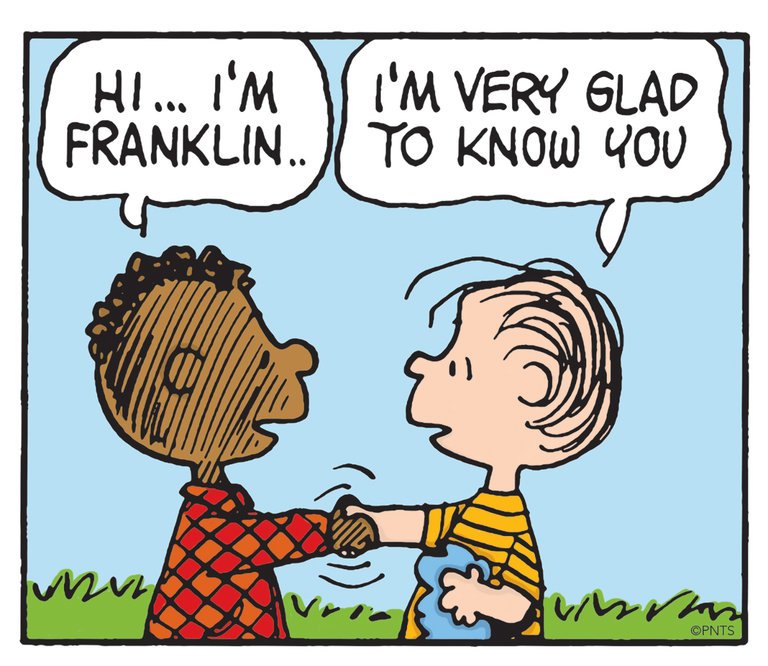 Guess Who's Coming to 'Peanuts'
By DAVID KAMP NYT JAN. 13, 2018
https://www.nytimes.com/2018/01/13/
opinion/sunday/peanuts-franklin-charlie-brown.html
USA > Garry Trudeau UK / USA
https://www.nytimes.com/2018/01/13/
opinion/sunday/peanuts-franklin-charlie-brown.html
http://www.nytimes.com/2015/04/19/
opinion/sunday/ross-douthat-checking-charlie-hebdos-privilege.html
http://www.theatlantic.com/international/archive/2015/04/the-abuse-of-satire/390312/
http://www.guardian.co.uk/books/2010/oct/26/garry-trudeau-doonesbury-40
http://www.theguardian.com/news/1995/oct/25/mainsection.fromthearchive
USA > Matt Bors
USA > Lloyd Dangle
USA > Andy Singer
Addison Morton Walker USA 1923-2018
creator of "Beetle Bailey,"
a comic strip about an Army private
who malingered his way
through seven decades at Camp Swampy
to the consternation of his commanding officers
and the delight of his fans in the armed forces
and beyond
https://www.nytimes.com/2018/01/27/
obituaries/mort-walker-dead-beetle-bailey-cartoonist.html
Robert Maxwell Weber USA 1924-2016
Robert Weber ('s)
elegant and witty cartoons
about the privileged and the self-involved
were staples of The New Yorker
for 45 years,
(...)
From 1962 to 2007,
Mr. Weber drew 1,481 cartoons
for the magazine,
as well as art for 11 covers.
Over those decades,
the well-dressed people he depicted,
often at parties or entertaining at home,
were an overachieving bunch.
http://www.nytimes.com/2016/11/03/
arts/design/robert-weber-died-new-yorker.html
http://www.nytimes.com/2016/11/03/
arts/design/robert-weber-died-new-yorker.html
Irwin Hasen USA 1918-2015
cartoonist and comic-book artist
who drew, and helped create, "Dondi,"
the widely syndicated comic strip
about a lovable, wide-eyed World War II orphan
http://www.nytimes.com/2015/03/16/
arts/irwin-hasen-comic-book-artist-and-dondi-illustrator-dies-at-96.html
William Anthony Auth Jr. USA 1942-2014
Pulitzer Prize-winning cartoonist
who for more than 40 years
drew sharp
and often darkly comic lines of attack
across the spectrum of American life,
finding absurdities in all corners of it
http://www.nytimes.com/2014/09/16/
business/tony-auth-pulitzer-winning-cartoonist-dies-at-72.html
Charles Barsotti.
C. Michael Barsotti
Charles Barsotti, Cartoonist With Humor Both Simple and Absurd, Dies at 80
By WILLIAM YARDLEY NYT JUNE 20, 2014
http://www.nytimes.com/2014/06/21/
arts/charles-barsotti-cartoonist-with-humor-both-simple-and-absurd-dies-at-80.html
Charles Branum Barsotti USA 1933-2014
cartoonist for The New Yorker
whose jaded canines, outlaw snails,
and obtuse monarchs
made readers laugh
for more than 40 years
http://www.nytimes.com/2014/06/21/
arts/charles-barsotti-cartoonist-with-humor-both-simple-and-absurd-dies-at-80.html
UK > Martin Honeysett UK 1943-2015
Brilliant and acerbic cartoonist
whose work appeared in Punch, Private Eye
and several national newspapers
https://www.theguardian.com/artanddesign/2015/feb/03/
martin-honeysett
UK > Ronald William Fordham Searle UK 1920-2011
British cartoonist and caricaturist
whose outlandishly witty illustrations
for books, magazine covers,
newspaper editorial pages and advertisements
helped define postwar graphic humor
https://www.theguardian.com/artanddesign/2010/
mar/09/ronald-searle-life-in-pictures
William Aloysius Keane USA 1922-2011
Daily, for more than half a century,
millions of readers have received a serving
of Bil (he really did spell it with one "L")
Keane's traditional-value,
homespun humor in his cartoon "The Family Circus,"
published in recent years in nearly 1,500 newspapers.
http://www.nytimes.com/2011/11/10/
business/media/bil-keane-creator-of-the-family-circus-dies-at-89.html
Thomas Albert Wilson USA 1931-2011
Who is this comic-strip character named Ziggy?
He can't be placed
in time, location or economic status,
and seems to be
— but may not be — an adult male.
It is known
that he was created in 1969
by the cartoonist Tom Wilson
http://www.nytimes.com/2011/09/21/
arts/tom-wilson-cartoonist-behind-ziggy-dies-at-80.html
William Victor Gallo USA 1922-2011
Bill Gallo
captured the spectacles and personalities of sports
as a cartoonist at The Daily News
for more than 50 years,
expressing in warmhearted caricatures
the deep affection
New York fans felt for their heroes
http://www.nytimes.com/2011/05/12/
business/media/12gallo.html
Stuart Ertz Hample USA 1926-2010
humorist
who entertained children (and adults)
as an author, playwright, adman,
performer and cartoonist
(...)
From 1976 to 1984
he wrote and illustrated
the syndicated comic strip
"Inside Woody Allen,"
a series of panels that purported
to reveal the mind
of that famous comedian and film director
http://www.nytimes.com/2010/09/25/
arts/25hample.html
Peter O'Donnell, creator of Modesty Blaise USA 1920-2010
"Modesty Blaise,"
as the comic strip was known,
was published in The London Evening Standard
for nearly 40 years, from 1963 to 2001
— more than 10,000 strips in all —
and syndicated in newspapers
all over the world.
http://www.nytimes.com/2010/05/09/
books/09odonnell.html
Leo Aloysius Cullum USA 1942-2010
cartoonist
whose blustering businessmen,
clueless doctors,
venal lawyers
and all-too-human dogs and cats
amused readers of The New Yorker
for the past 33 years
http://www.nytimes.com/2010/10/26/
arts/26cullum.html
Paul Francis Conrad USA 1924-2010
http://www.nytimes.com/2010/09/05/us/politics/05conrad.html
James Gillray 1756-1815
leading caricaturist of his time,
an artist of outstanding inventiveness
http://www.theguardian.com/artanddesign/2015/mar/21/
satire-sewers-and-statesmen-james-gillray-king-of-cartoon
http://www.tate.org.uk/whats-on/tate-britain/exhibition/james-gillray-art-caricature
Saul Steinberg,
the New Yorker's legendary cartoonist
https://www.theguardian.com/artanddesign/2008/nov/27/art-usa
https://www.theguardian.com/artanddesign/gallery/2008/nov/27/art-usa?picture=340097911
Cartoonist > Neal Obermeyer
http://www.journalstar.com/blog/nealo.php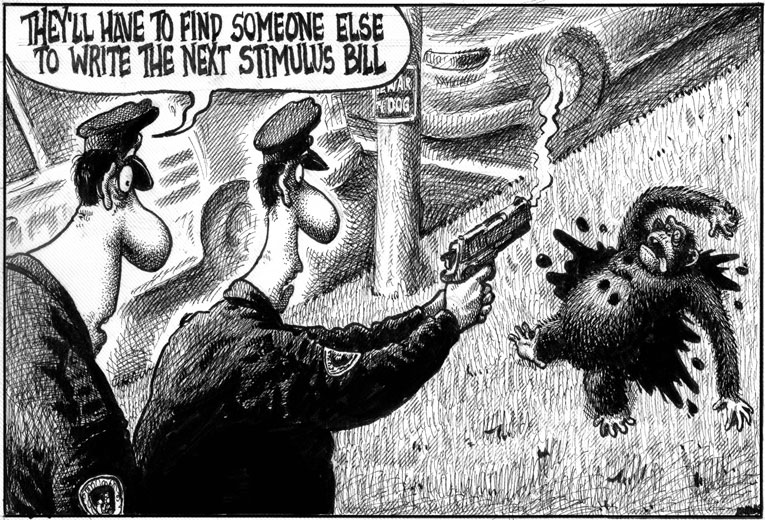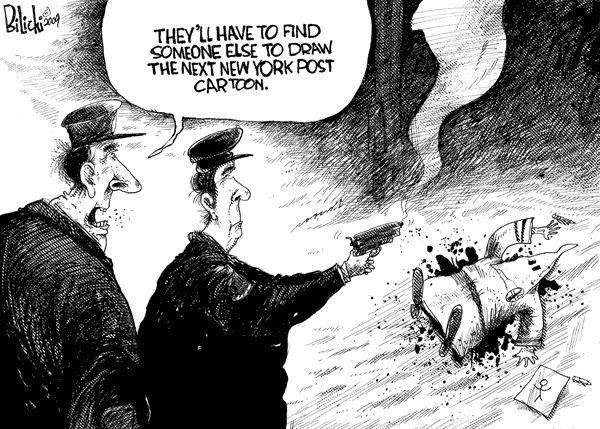 1 - Sean Delonas
New York Post
18 February 2009
http://www.nypost.com/delonas/delonas.htm
Related
http://www.huffingtonpost.com/2009/02/18/new-york-post-chimp-carto_n_167841.html
2 - Justin Bilicki
New York NY
Cagle
20 February 2009
New York Post's cartoonist Sean Delonas UK / USA
https://www.theguardian.com/world/2009/feb/20/
new-york-post-apologises
https://www.theguardian.com/world/2009/feb/18/
new-york-post-cartoon-race
https://www.huffingtonpost.com/2009/02/18/
new-york-post-chimp-carto_n_167841.html
Library of Congress > editorial cartoonist Herb Block USA
From the stock market crash in 1929
through the new millennium
beginning in the year 2000,
editorial cartoonist Herb Block
has chronicled the nation's political history,
caricaturing twelve American presidents
from Herbert Hoover to Bill Clinton
http://www.loc.gov/rr/print/swann/herblock/intro-jhb.html
Running for Office:
Candidates, Campaigns,
and the Cartoons of Clifford Berryman USA
All of these cartoons appeared
on the front page of Washington newspapers
from 1898 through 1948
https://www.archives.gov/press/press-kits/berryman-cartoons
illustration
illustrator
Thea Brine
Christoph Niemann
http://niemann.blogs.nytimes.com/
Ronald Searle,
Slyly Caustic Cartoonist,
Dies at 91
January 3, 2012
The New York Times
By STEVEN HELLER
Ronald Searle, the British cartoonist and caricaturist whose outlandishly witty illustrations for books, magazine covers, newspaper editorial pages and advertisements helped define postwar graphic humor, died on Friday in Draguignan, in southeastern France, where he lived. He was 91.

His family said in a statement that he had died in his sleep after a short illness.

Lampooning the foibles of the English class system as well as clerics, politicians and even other artists, Mr. Searle was often described as a latter-day version of the 18th-century British graphic satirist William Hogarth. His cartoons combined an ear for linguistic nuance with a caustic pen and brush. With just a few well-placed lines, he pierced the facades of his targets without resorting to ridicule or rancor.

"His ability to draw in a variety of styles allowed him to master all forms of graphic art," the caricaturist Edward Sorel said.

Yet his signature method, a curious mix of minimalist detailing and rococo flourishes using a vibrant watercolor palette, exuded a modern air — sometimes realistic, other times abstract, occasionally phantasmagoric — more reminiscent of the German expressionist George Grosz than Hogarth and his other British antecedents.

Mr. Searle's sensibility, though rooted in an English tradition, was decidedly universal, and not always overtly comic. In addition to creating humorous covers for The New Yorker and TV Guide from the 1960s through the '80s, as well as cartoons for the French newspaper Le Monde and illustrations for The New York Times and the International Herald Tribune, he recorded serious news events, including John F. Kennedy's presidential campaign in 1960 and the Nazi war criminal Adolf Eichmann's trial in Jerusalem in 1961, covering them for Life magazine.

He also created pictorial travelogues for Holiday magazine, whose art director during the middle to late '60s, Frank Zachary, sent him to various corners of the world to report on the growth of postwar industrial Europe and other subjects. Many editorial cartoonists and illustrators who came of age in those years were influenced by Mr. Searle's approach and mimicked it.

Ronald William Fordham Searle was born on March 3, 1920, in Cambridge, England. While his working-class parents, William and Nellie Searle, were not "poor in the needy sense," his biographer Russell Davies wrote, most of their money went to necessities. Still, recognizing their son's talent, they bought him a set of pastels, and by age 9 he was drawing credible portraits of his family and friends.

At 15, Ronald paid for his own art school classes by working for a cartoonist at The Cambridge Daily News, where he also drew traditional continuous-panel strips with clever story lines in the graphic style of the early 20th-century cartoonist and humorist H. M. Bateman.

Mr. Searle became a satirist, he once said, because "in the late '30s, things in general and politics in particular were no longer neatly divided into things black and white."

"On top of this," he added, "there was the irresistible impulse to draw. I cannot remember wanting to be anything else other than an artist."

In 1939 he passed a government drafting test and joined the Army as an architectural draftsman. On the side he made impressionistic watercolor sketches of fellow soldiers and cartoons poking fun at military conventions. His work was first published in the magazine Lilliput in 1941.

In October of that year he was shipped off to Singapore, which soon fell to the Japanese. Captured, he spent the duration of the war in Changi prison, which provided forced labor for building the Burma railway, including the famous bridge over the River Kwai.

But he continued to draw, using crude implements and scraps of paper, recording the deplorable conditions of his camp and the fates of fellow soldiers. After he was repatriated in 1945, his drawings were exhibited in Cambridge. (In 1986 he published a book of them, "To the Kwai — and Back: War Drawings 1939-1945.")

In 1948, Mr. Searle began writing and illustrating parodies about the impish, misbehaving students at a fictional English girls' school called St. Trinian's and publishing them in Lilliput. This led to a series of popular books, starting in 1948 with "Hurrah for St. Trinian's."

His St. Trinian's girls were warmly embraced by the English public and established him as one of Britain's leading cartoonists. Still, he began to complain of becoming a prisoner to his creations and the cottage industry of books and films that grew from them. To free himself from the burden of success, he blew up the school with an atomic bomb in 1952 in "The Terror of St. Trinian's."

But he could not kill the franchise; the characters were too popular. It continued until 1959, when he and his wife at the time, Kaye Webb, published "The St. Trinian's Story," a compilation. (In 2007, it was revived as a film, "St. Trinian's.")

Mr. Searle began contributing work to the venerable satiric magazine Punch in 1953, at the invitation of its editor, Malcolm Muggeridge. He soon became the highest-paid cartoonist on its staff and was sought after as an author, illustrator and animator, especially in the United States, where he designed the title sequences for "Those Magnificent Men in Their Flying Machines" and other movies.

In the mid-1950s he founded a publishing company, Perpetua Books. His work has been collected in albums like "Merry England, etc." and "The Rake's Progress" (an homage to Hogarth's famous portfolio of a similar name).

As time went on, his work occasionally became surreal and his comedy darker, as in his books "The Square Egg" (1968) and "The Secret Sketchbook" (1970). He continued to focus on familiar themes, like overpopulation and religion, but with more angst; a 1972 drawing titled "The Arrival of God" shows a huge crescent moon falling with a thud onto a large city.

In the late 1960s Mr. Searle and his second wife, the former Monica Koenig, moved from Paris to secluded country life in southeast France, near Cannes, where he continued to work.

His marriage to Ms. Webb, an editor of Lilliput and Puffin Books, whom he married in 1948, ended in divorce in 1967. His second wife died in July. Mr. Searle is survived by a son, John; a daughter, Kate Searle, and a grandson.

Despite his skeptical, satirical bent, Mr. Searle had a soft spot for animals, especially cats. The subjects of his books "Searle's Cats" (1967) and "More Cats" (1975), hyperactive and dour, were among his favorite creations. He was also fascinated by snails, and found a way to link them with terror, intrigue and even sex in his 1969 book "Hello — Where Did All the People Go?"
Ronald Searle, Slyly Caustic Cartoonist, Dies at 91,
NYT,
3.1.2012,
http://www.nytimes.com/2012/01/04/
arts/design/ronald-searle-british-cartoonist-dies-at-91.html
Bil Keane,
Creator of 'The Family Circus,'
Dies at 89
November 9, 2011
The New York Times
By DENNIS HEVESI
In the single-panel cartoon that Bil Keane drew for publication on Sept. 10, 1964, the mother is looking at the shopping list posted on the kitchen wall. In her handwriting are the words: "Cereal, tea, soap." Following on the list, in sloppy kid's scrawl: "Ice cream, cookies, plastic soldiers" — with all the S's reversed.

In the cartoon published on Jan. 22, 2008, the mother — not looking much older — is at the stove, in the background, as one of her sons tells his sister, "Mommy's cooking my favorite dinner. It's called 'leftovers.' "

Daily, for more than half a century, millions of readers have received a serving of Bil (he really did spell it with one "L") Keane's traditional-value, homespun humor in his cartoon "The Family Circus," published in recent years in nearly 1,500 newspapers.

Mr. Keane died at 89 on Tuesday at his home in Paradise Valley, Ariz., but the tradition will continue, said his son Jeff, who has been working with his father on the cartoon since 1981.

No doubt they will bear the same gentle touch as the Oct. 23, 1965, cartoon in which three of the children — Billy, Dolly and Jeffy — are in the back of the station wagon as it passes a drive-in movie theater where a western is on the screen. "Wow!" Billy says. "I wish we lived in one of the houses along here."

Knee-slapping guffaws were not the stuff of Mr. Keane. "We are, in the comics, the last frontier of good, wholesome family humor and entertainment," he told The Associated Press in 1995. "On radio and television, magazines and the movies, you can't tell what you're going to get. When you look at the comic page, you can usually depend on something acceptable by the entire family."

Particularly acceptable to Mr. Keane, said Andrew Farago, curator of the Cartoon Art Museum in San Francisco, were mispronunciations and word twists: "A kid would say 'pizgetti' instead of spaghetti, and Jeffy would say, 'Can I wear my short-sleeve pants?' "

"The Family Circus," said Tom Richmond, president of the National Cartoonists Society, "was one of the strips that I, as a kid, never missed, because it was Americana on the comic page."

One of the characters that delighted Mr. Richmond, he said, was Not Me, "this invisible person who was always the one who did the naughty thing and ended up getting blamed for it by the kids."

William Aloysius Keane showed an early interest in cartooning. He was born in Philadelphia on Oct. 5, 1922 to Aloysius and Florence Keane. As a child, he drew on his bedroom walls.

"I didn't always spell my name Bil," he told Editor & Publisher magazine in 1968. "My parents named me Bill, but when I started drawing cartoons on the wall, they knocked the 'L' out of me."

After graduating from high school, where he drew cartoons for the student magazine, Mr. Keane served in the Army during World War II. Assigned as a cartoonist for the military newspaper Stars and Stripes, he was based in Australia, where he met his future wife, Thelma Carne.

Mrs. Keane died in 2008. Besides his son Jeff, Mr. Keane is survived by three other sons, Neal, Glen and Christopher; a daughter, Gayle Keane; nine grandchildren; and one great-granddaughter.

After the war, Mr. Keane became a staff artist for The Philadelphia Bulletin. After the family moved to Arizona in 1959, Mr. Keane started drawing "The Family Circus," based on his own family's experiences.

"Everything that's happened in the strip has happened to me," he once said. "That's why I have all this white hair."
Bil Keane, Creator of 'The Family Circus,' Dies at 89, NYT, 9.11.2011,
http://www.nytimes.com/2011/11/10/business/media/
bil-keane-creator-of-the-family-circus-dies-at-89.html
Paul Conrad, Cartoonist, Dies at 86
September 4, 2010
The New York Times
By ROBERT D. McFADDEN
In the Watergate scandal, he drew Richard M. Nixon nailing himself to a cross. He stood Dick Cheney at a vast graveyard of veterans, saying, "For seven years, we did everything to keep you safe." And on the frieze over the Supreme Court, he etched the hallowed words: "Of the insurance co's. By the insurance co's. And for the insurance co's."

Paul Conrad's rapier editorial cartoons in The Los Angeles Times, The Denver Post and other papers slashed presidents, skewered pomposity and exposed what he saw as deception and injustice for six decades. Subjects squirmed. Readers were outraged and delighted. And he won a host of awards, including three Pulitzer Prizes.

"No one's ever accused me of being objective," he liked to say of his take-no-prisoners career, which branched into sculpture, books and helium balloons. At the age of 86, Mr. Conrad, who lived in Rancho Palos Verdes, Calif., died at home early Saturday of natural causes, The Los Angeles Times quoted his son David as saying.

In the tradition of Thomas Nast, whose caricatures hounded a corrupt Boss Tweed from power in New York in the 19th century, and Herbert R. Block, the renowned Herblock of The Washington Post, Mr. Conrad captured complex issues and personalities in simple pen-and-ink drawings that touched the major political fights of his era.

Wars, elections, scandals, the legerdemain of politicians and the shenanigans of charlatans — all were grist for the Conrad Truth Machine, a moveable feast that began at The Denver Post in 1950, went to The Los Angeles Times in 1964, and after 1993 was syndicated in publications that had printed his work for decades. He won Pulitzers in 1964, 1971 and 1984.

"Conrad's name strikes fear in the hearts of men all over the world," the humorist Art Buchwald wrote, with echoes of the Shadow and Superman. "Where there is corruption, greed or hypocrisy, everyone says, 'This is a job for Conrad.' "

He was a Democrat with liberal leanings and relished attacking Republicans. His Nixon was a sly, secretive scoundrel in need of a shave. He made the Nixon "enemies list," and his taxes were audited four times, without changes. Ironically, he later secured the Nixon lecture chair at the president's alma mater, Whittier College, in 1977-8.

In 1968, Mr. Conrad drew Gov. Ronald Reagan of California on his knees retrieving papers marked "law and order," "patriotism," and "individual liberty," from under the feet of former Gov. George C. Wallace of Alabama, a presidential candidate. "Excuse me, Mr. Wallace," he says, "you're stepping on my lines." As president, Mr. Reagan became Napoleon, "The War Powers Actor."

But Mr. Conrad also took aim at Democrats. President Lyndon B. Johnson and Vice President Hubert H. Humphrey were cowboys riding a Dr. Strangelove bomb down on Vietnam in 1968. Years later, when Robert S. McNamara expressed regrets over the war, Mr. Conrad drew the former defense secretary at the Vietnam Veterans Memorial in Washington (beside the names of 58,000 dead) saying, "Sorry about that."

In the 1976 and 1980 presidential campaigns, Mr. Conrad rendered Jimmy Carter with a toothy grin of vacuity. He portrayed yuppies as rich brats, reporters as backward donkey riders and himself as a scruffy artist — a lanky drudge in shirt sleeves with a jutting chin, horn-rimmed glasses and thinning hair — who drew six cartoons a week, inspired by news.

"I decide who's right and who's wrong, and go from there," he told Writer's Digest.

Paul Francis Conrad and his twin brother, James, were born in Cedar Rapids, Iowa, on June 27, 1924, sons of Robert H. Conrad and Florence Lawler Conrad. Paul drew his first cartoon on the wall of a parochial school boys' lavatory. After graduating from high school, he went to Alaska and worked in construction.

He joined the Army in 1942 and was in the invasions of Guam and Okinawa. In 1946, he enrolled at the University of Iowa. His grades were mediocre, but his cartoons for the college newspaper impressed teachers, who sent samples to The Denver Post. He was hired after graduation.

In 1953, he married Barbara Kay King. They had four children: David, James, Carol and Elizabeth. His wife, children and a granddaughter were listed by The Los Angeles Times as survivors.

With syndication, his popularity grew exponentially. Soon after his first Pulitzer, he joined The Los Angeles Times. He often focused on nonpolitical subjects. When Apollo 11 landed on the moon in 1969, he conceived a mailbox awaiting the astronauts. A 1964 vision showed the moon looming larger in four rocket porthole panels, the last at the landing site, revealing a parking meter with an expiration flag: "Violation."

In 1993, Mr. Conrad accepted a buyout and left The Times. But he continued to produce cartoons that were syndicated for years.

He drew Mr. Nixon and George W. Bush side by side, chubby pals in beanies, called "Tweedledumb and Tweedledumber." After the 2008 election, he depicted Gov. Sarah Palin of Alaska, the losing vice-presidential candidate, holding a smoking AK-47 in one hand and, in the other, the trunk of a dead G.O.P. elephant.

Much of his work was collected in books: "The King and Us" (1974), "Pro and Conrad" (1979), "Drawn and Quartered" (1985), "Conartist: 30 Years With The Los Angeles Times" (1993), and "Drawing the Line" (1999). A PBS documentary, "Paul Conrad: Drawing Fire," was aired in 2006.

In the 1980s, he became a helium balloon enthusiast. He also sculptured bronze busts of presidents — George W. Bush is a 10-gallon hat atop a pair of cowboy boots with nothing in between — and other prominent Americans. Many have been exhibited at the Los Angeles County Museum of Art.

In 1991, he created "Chain Reaction," a 26-foot mushroom cloud of chain links and concrete. It stands outside the Santa Monica Civic Center. "This is a statement of peace," says the artist's inscription. "May it never become an epitaph."
Paul Conrad, Cartoonist, Dies at 86, NYT, 5.9.2010,
http://www.nytimes.com/2010/09/05/us/politics/05conrad.html
Obama fails to see funny side
of cartoon satirising American fears
Tuesday, 15 July 2008
The Independent
By Leonard Doyle in Washington


Famed for 15,000-word, in-depth articles, cartoons and merciless fact-checkers, The New Yorker magazine seems to have winkled out an essential truth about Barack Obama – he doesn't do satire.
The Democratic contender's crankier side was on full display yesterday as his campaign launched an offensive against – of all things – the cartoon cover of the latest edition. It shows the presidential candidate dressed in a turban, fist- bumping his wife, Michelle, in an afro, with an AK47 over her shoulder. An American flag goes up in flames in their fireplace, while a portrait of Osama bin Laden hangs above the mantelpiece.

Hilarious to the sophisticated readers of The New Yorker, it was infuriating for Mr Obama, whose campaign is waging a daily battle against a viral internet campaign of rumours, lies and innuendo against him – a problem neatly summed up by the cartoon. Only last week, a poll by the respected Pew organisation revealed that 12 per cent of Americans still think Mr Obama is a Muslim (strangely, one per cent think he's Jewish, which could be just as damaging in some parts of America).

The Obama campaign spent yesterday denouncing the cartoon as "tasteless and offensive" and was deaf to the protests of The New Yorker's editor, David Remnick, who tried to explain that "the target of this are the lies spread about Obama which are such nonsense that you'd think this would be obvious to anyone". The cover holds "up a mirror to the prejudice and dark imaginings" of Mr Obama's past, he added.

The New Yorker even issued a press release explaining how "artist Barry Blitt satirises the use of scare tactics and misinformation in the presidential election to derail Barack Obama's campaign".

All to no avail. When Mr Obama was asked by a reporter on a campaign stop in San Diego: "Have you seen it? If not, I can show it to you on my computer. I wondered if you've seen it or if you want to see it or if you have a response to it?", there came a shrug of incredulity. "I have no response to that," said the man who may soon have weightier issues to tackle should he win the White House in November.

Later his spokesman, Bill Burton, issued a statement saying: "The New Yorker may think, as one of their staff explained to us, that their cover is a satirical lampoon of the caricature Senator Obama's right-wing critics have tried to create. But most readers will see it as tasteless and offensive. And we agree."

Pity then the patient New Yorker journalist Ryan Lizza who spent weeks uncovering details of Mr Obama's early political life in Chicago, only to find his work eclipsed by the fuss over the cartoon. The article went to print over the objections of the Obama campaign, but the exaggerated anger was focused on the cover not the content.

Lizza rattled the Obama campaign by challenging the notion that the champion of the Democratic Party is some kind of anti-establishment revolutionary who will clean out Washington's Augean stables if he wins the White House. "Rather, every stage of his political career has been marked by an eagerness to accommodate himself to existing institutions rather than tear them down or replace them," Lizza writes.

He describes how, as a community organiser, Mr Obama worked within the power base of Chicago's churches. Although he started out agnostic, he was a practising Christian by the time he first sought office. "At Harvard, he won the presidency of the Law Review by appealing to the conservatives on the selection panel," and in Illinois, "rather than challenge the Old Guard Democratic leaders, Obama built a mutually beneficial relationship with them," playing poker with the lobbyists he now excoriates as well as Republican politicos.

Even in Washington, Mr Obama's Senate career has been marked by caution. As soon as he arrived on Capitol Hill he went out of his way to not define himself as an opponent of the Iraq war, although opposing the war was the launch pad that sent him into the political stratosphere from distant Illinois.

Yesterday, the Obama campaign focused on dousing the flames. But even some of its cheerleaders were mystified at the reaction. "The notion that most Americans are incapable of seeing that [it is satire] strikes me as excessively paranoid," said Andrew Sullivan, of the political magazine The Atlantic.
Obama fails to see funny side of cartoon satirising American fears, I, 15.7.2008,
http://www.independent.co.uk/news/world/americas/
obama-fails-to-see-funny-side-of-cartoon-satirising-american-fears-867635.html
Beetle Bailey's Long March:
Classic Cartoons Search for a Home
Strip's Creator, 84, Had Comics Collection
Worth $20 Million, and No Place to Show It
July 16, 2008
The WAll Street Journal
By MARY PILON
Page A1
Mort Walker has drawn "Beetle Bailey," a comic strip chronicling the lighter side of Army life, for 58 years. During most of that time, the artist has been waging a war of his own -- to preserve cartoons.

Over the years, comics have become hot. They're the subject of movies, TV shows and Pulitzer Prize-winning literature like "Maus" by Art Spiegelman. But when nobody took comic books seriously, Mr. Walker saw them as art.

In his quest, Mr. Walker, 84 years old, has amassed more than 200,000 pieces -- including comic books, news clippings, drawings, film footage and posters. Mr. Walker, who published his first cartoon at age 11, contributed thousands of pieces from his own collection. He got contributions from comic-book heavyweights like "Spider-Man" creator Stan Lee and the late cartoonist Rube Goldberg, who died in 1970. The trove contains Mickey and Minnie Mouse drawings by Walt Disney and hand-drawn panels of "Peanuts" by Charles Schulz. It is one of the largest collections of original cartoon art in the world.

It also has been searching for a home. Worth an estimated $20 million according to the museum's curators, the collection was moved to a storage facility in Stamford, Conn., in 2002. Mr. Walker and his family have looked at dozens of homes for the collection ever since.

"We thought people would welcome us with open arms," Mr. Walker says. "But it was really hard to convince people that cartoon art was worth saving and worth looking at."

In 1974, Mr. Walker opened the National Cartoon Museum in Greenwich, Conn., to house his collection. He moved the museum a couple of times, plagued by everything from money problems to collapsing roofs. He eventually closed it in 2002.

"It's always been Mort right out there in front," says Jim Davis, author of the comic strip "Garfield." "Fighting for the cartoons and fighting for cartooning as a legitimate art form. He's been tireless."

Mr. Walker's quest to preserve comics began in the 1940s when he was a young artist. He would regularly walk into the New York offices of King Features Syndicate -- which in 1950 became the distributor for "Beetle Bailey" -- and see crumpled up "Krazy Kat" cartoons on the ground. They were used to absorb water from ceiling leaks, he says.

"It just wasn't right," Mr. Walker says. He began taking the drawings home.

For two decades he looked for a home for a national museum. He says he talked to Yale University, the Museum of the City of New York and the Kennedy Center in Washington, D.C., among others. Nobody was interested, he says.

Then, in 1973, Mr. Walker talked up his idea to the Hearst Foundation. The foundation wrote him a check for $50,000, and the National Cartoon Museum opened in a mansion in Greenwich, Conn.


Out on the Street

After a couple of years, the landlord decided he could rent out the space for more, and the museum was back out on the street, Mr. Walker says. In 1976, he moved the collection to Rye Brook, N.Y., where he bought a ramshackle 17-room home for $60,000.

"There was ice on the dining room floor, you could skate on it," Mr. Walker says. "It was a mess."

Pigeons had taken residence in the house. Plastic ceiling moldings littered the floor, and windows were shattered. Mr. Walker hired his son Brian and friends to repair the place. Later that year, the museum was up and running. It attracted as many as 75,000 visitors a year in its heyday.

Keeping the museum running became a Walker family affair. Mort Walker's wife, Cathy, managed the museum free for decades. Brian Walker curated exhibits and organized events. Another son, Greg, would stay up till 2 a.m. typesetting captions for exhibits on the walls.

One afternoon in 1992, while doing paperwork, Mrs. Walker heard a strange noise. Decorative ridges atop the building's tower had fallen off. At the same time, the collection was beginning to outgrow the building. It was time to look for another home.

Donations of art flooded in from cartoonists and their estates. Magazine and comic syndicates would clear out storerooms and give cartoons to Mr. Walker. The collection swelled with "Dick Tracy" strips, boxes of Marvel comics and "Yellow Kid" originals.

In 1996, Mr. Walker moved the collection to Boca Raton, Fla. He drew up plans for a majestic new space. Giant cartoon characters were painted on the walls of a temporary trailer placed on the land where the museum would eventually stand. When construction wrapped up, Mrs. Walker was first to set foot in the new museum. When she walked in, she cried.

But two corporate sponsors filed for bankruptcy. The museum lost $5 million in expected donations and was unable to afford basic maintenance costs, Mr. Walker says. The bank foreclosed, he says, and the museum closed in 2002.
Move to Stamford

The collection was packed up and moved to the Stamford storage facility.

Mr. Walker says he has lent out cartoons for specific exhibitions, but no museums would take on exhibiting the whole collection.

Donations paid for storage and preservation of the cartoon art, which is kept in a dark, humidity-controlled space. Certain pieces are handled with white gloves. Comics are rotated for exhibition to prevent from too much light exposure.

To pay off some museum debt, Mr. Walker auctioned off some cartoons: Most notably, a Mickey Mouse drawing fetched $700,000 at a New York auction in 2001. He has avoided selling any other major pieces of the museum collection, but does auction some of his "Beetle Bailey" strips for charities.

In 2006, the museum nearly had a deal to relocate in the Empire State Building in New York City. Press releases were issued and stationery was printed. But the plan fell apart. Photos and a tall model of the Empire State Building still sit in the living room of the Walkers' home in Connecticut.

In 2007, Ohio State University Prof. Lucy Caswell, a former member of the cartoon museum's board of directors, began to talk with the Walkers about merging their collection with the university's own cartoon collection. The university promised the art would be available for all to see, and the Walkers finally decided that was the way to go. The art arrived in Ohio last month.

Ohio State will revamp a space that's currently being used as a library and will catalog all of the cartoons. It is accepting the collection as a donation, and Mr. Walker reserves the right to borrow pieces back for special exhibitions.

For the past four months, the Walker family has been sifting through the collection and reminiscing. "It's almost painful going over all that stuff again," Mr. Walker says.

On a recent day, he picked up a large cutout of Hagar from "Hagar the Horrible" and talked about how creator Dik Browne officiated at the wedding ceremony of son Brian.

"It's like watching your parents pack up their house," Brian Walker says.
Beetle Bailey's Long March: Classic Cartoons Search for a Home,
WSJ, 16.7.2008,
http://online.wsj.com/article/SB121615221992855615.htmlmod
An ideal picture of British character
On St George's Day, what could be better
than an exhibition of the brilliant cartoon of Pont?
April 22, 2008
From The Times
Libby Purves
Tomorrow is St George's Day. And Shakespeare's birthday. And, things being a bit up the creek, no doubt ministers will return to their theme of Defining Britishness, cobbling up mottos and oaths and thoughtlessly annexing all virtues (democracy, tolerance, humour) on our behalf while skating over our equally obvious vices. Nostalgia lovers will riff about long shadows on cricket grounds and old maids bicycling to Holy Communion. Cocooners will stay at home watching Marple and Morse while the rain beats on the windowpanes.

A better idea for tomorrow would be to hurry down to the Cartoon Museum in Little Russell Street, London, where an exhibition opens on the life and work of Graham Laidler, better known as Pont. His gentle gibes and drawings helped to define the 1930s, but like all great cartoonists he reaches beyond his time, using surrealism and silliness to express the human condition. As Fougasse, of Punch, said: "The sense of humour is merely the sense of proportion in a party frock, and its province the study of behaviour."

It takes genius to see through everyday banalities and observe how very odd we are, then capture it with a few fine lines and a caption. I suppose that is why I, trapped all my life in webs of words, revere cartoonists and have just spent two giddy days at the Shrewsbury cartoon festival where each year 40 of the creatures invade a quiet town with giant drawing boards in the square and free caricatures of a cautiously delighted citizenry.

But to return to Pont: although much of his work is set in a world of cooks and bowler hats, he is not one of those Victorian bores who drew fussy scenes and bolted on weak jokes at the expense of servants and foreigners. Like the best moderns he infuses character into every curve of a rump or tilt of an eyebrow, adding tiny jokes in every corner. Many of his people remain utterly recognisable: the old lady cosily tucked up in bed with a gruesome crime novel, phantom policemen and killers crowding round her eiderdown; the nosy visitors to the stately home; the lordly newspaper baron telling the Prime Minister he might just fit him in between three and four on Thursday.
Modern celebrity obsession is prefigured in an endearing picture of a frowsty back-to-back kitchen with rioting children and laundry hung on the pipes as the couple read the paper: "I see the Shippley-Melvilles are staying in their villa at Juan-les-Pins." "Funny! I though it was Cannes." Change that to the Beckhams and LA, and you're in 2008. As for his cartoons of the 1936 floods, the rowing-boat rescuers with the Thermos, 70 years on, might well be met on a rooftop with the same frosty: "I am ever so sorry but Mrs Tweedie never touches soups." It is also worth recording that it was Pont who gave us the timeless line: "And the doctors all said they'd never seen one like it."

The British Character series made his name, and many still apply: love of small animals, the importance of tea, a tendency to sheer away in alarm from black-browed foreign intellectuals at parties. And any estate agent would recognise "Weakness for oak beams" - a guest trapped in an attic bedroom by headbanging black trusses.

Obviously, for today we would have to add new elements of the British character - Inability to Stop Drinking, or Anxiety to be Seen Offsetting the Maldives Flight. A quick scan through the Sunday papers suggested a few more: Eating Ready-meals in Front of Cookery Programmes, Addiction to Misery Memoirs, and Tendency to Camouflage Self-Pity as Honesty, the latter evinced so beautifully in The Blunkett Tapes, John Prescott's bulimia memoirs and Alastair "Hell and back" Campbell's endless reprise of how depression made him the nationally important figure he is.

But if you want a slightly older Britishness, go to Pont himself. He was born in a Newcastle suburb in 1908 to a father whose business failed and who then fell - none knows how - from his office window when Graham was 12. He lived on in an aunt-hill of female relatives, whom he observed with a beadily affectionate eye; trained as an architect, he took the nickname to disguise his sideline from potential customers (there is a lovely cartoon of a snooty architect saying: "Did I really understand you, Miss Wilson, to use the expression 'A cosy nook' in connection with the house you wish me to design for you?").

By 24 he had TB, losing a kidney and a testicle; his success was growing but he had to live most of his eight remaining years in sanatoriums and then an Austrian mountain village, always anxious about money and worried that ideas would dry up, sending home letters about the social life of fellow "incurables" and the unnerving rise of Nazi symbols. He embraced life the more for fearing death: "You must have as many experiences as you can grasp or you haven't truly lived. Even the ones that hurt mustn't be avoided, and only fools are anything but wiser for for them." He fell in love and had to give her up, yet that winter his "Patience in Adversity" cartoon showed nothing worse than a calm strap-hanging commuter in a rush-hour tangle of arms and legs.

When war came he became a Civil Defence driver, still drawing to earn his living. In November 1940 he got polio and died in two days, aged 32. J.B.Priestley remembered "an unusually attractive young man, handsome and friendly, merry and modest, with that unsleeping sly sense of humour which peeps out of the smallest drawing by him". Around the world, his fans mourned.

Yes, on the whole, the Pont exhibition will do for me on this St George's day.
An ideal picture of British character, Ts, 22.4.2008,
http://www.timesonline.co.uk/tol/comment/
columnists/libby_purves/article3791249.ece
November 25, 1967
A change of tack
from St Trinian's
From The Guardian archive
Saturday November 25, 1967
Guardian
Although it is 15 years since Ronald Searle last sketched the spindly ankle and leering eyeball of one of his pigtailed horrors from St Trinian's, a drastic effort to dissociate himself from them has never succeeded. "People are convinced that I am still producing them," Searle, who has settled in Paris, said. "It's baffling. Not too many people could really have seen them. I produced about one a month between 1946 and 1951, and then packed it in. The films helped to keep the image alive."
The interment of St Trinian's was the beginning of a break with his past. A few years later he broke completely with his life in England, he separated from his first wife, signed over all his royalties to provide for their two children and came to Paris to start, financially, from scratch.

Now married again, aged 47, he has built up a new career, contributing to the "New Yorker" and "Holiday" doing travel books and organising exhibitions of his work in Europe. An exhibition of his cat drawings has just opened at St Germain des Prés. They are not pretty, cute cats with glossy furs, but vilified, spiky-haired individuals with doubts about the universe. Cats with a wrinkle of anxiety in their smeared eyes; harassed cats, cats shrinking from some menace (such as having discovered the truth about their own libido).

To imbue cats with human feelings is a logical outcome of drawing on one's own experience. When the girls of St Trinian's gleefully hung a schoolmistress by the thumbs, Searle was drawing on stark images from a Japanese prison camp. (As a Japanese magazine put it, "He took part in various battles until he was captivated by the Japanese Army.")

When he came back to Britain in 1945 editors snapped up his drawings of nasty little girls first sketched to amuse his fellow prisoners. "I had brought an element of horror into the public cartoon," Searle said, "and the climate was right for it." Within a short time his girls were helping to bring in an income of £25,000 a year. He now lives right in the student centre of Paris. "I find Paris keeps me in a continual state of excitement," he said.

[The French cartoonist] Sine, he feels, has cancelled himself out. "His magazine Sine-Massacre was inviting trouble. "He simply butchered the police, Government, army, and clergy. He just put himself out of business. His latest book, for example, is 60 pages exclusively devoted to lavatories. "I suppose you can pull the chain on the public, but I don't think it gets you anywhere."


Peter Lennon
From The Guardian archive,
November 25, 1967 >
A change of tack from St Trinian's,
G,
Republished 25.11.2006,
https://www.theguardian.com/news/1967/nov/25/mainsection.fromthearchive
Related > Anglonautes > Arts
Related > Anglonautes > Vocapedia
journalism > illustrations, comics, cartoons
free speech, news, cartoons, advertising
Related > Anglonautes > Images
Related
http://www.bbc.co.uk/radio4/today/reports/arts/cartooncalendar
_20041108.shtml
http://www.whatalovelywar.co.uk/punchgallery.html
http://cain.ulst.ac.uk/images/cartoons/douglas98c.htm
http://www.time.com/time/cartoons/20040611/
http://www.nytimes.com/pages/cartoons/
http://www.danzigercartoons.com/
http://www.freep.com/index/thompson.htm
http://www.miami.com/mld/miamiherald/news/editorial/cartoons/
http://www.boston.com/ae/comics/
http://www.boston.com/news/globe/editorial_opinion/oped/wasserman/
http://www.ucomics.com/comics/
http://www.thebritishmuseum.ac.uk/pd/factsheets/modcart.html
http://www.bl.uk/collections/comics.html
http://www.loc.gov/exhibits/911/911-comics.html
http://www.rpi.edu/~bulloj/comxbib.html
http://www.britishtheatreguide.info/otherresources/academic/tenniel.htm
http://www.loc.gov/exhibits/british/britintr.html
http://lcweb.loc.gov/rr/print/swann/swannhome.html
http://www.loc.gov/rr/print/swann/artwood/aw-comics.html
http://www.paulsroom.bravepages.com/
http://www.victorianweb.org/periodicals/punch/subjects7.html
http://www.cartoongallery.co.uk/
http://www.lambiek.net/artists/index.htm

http://www.cartoon.org/spiegelm.htm
http://www.randomhouse.com/pantheon/graphicnovels/home.html
http://www.tcj.com/1_frontdesk/about.html
http://www.loc.gov/rr/print/swann/craws/
http://www.loc.gov/exhibits/911/
http://www.loc.gov/rr/print/swann/szyk/
http://www.loc.gov/rr/print/swann/hbgift/
http://www.loc.gov/rr/print/swann/herblock/
http://www.loc.gov/exhibits/goldstein/
http://www.loc.gov/rr/print/swann/stagestruck/
https://www.intoon.com/index.cfm