History > USA > Civil rights > Breaking the color barrier
Science
Katherine Johnson 1918-2020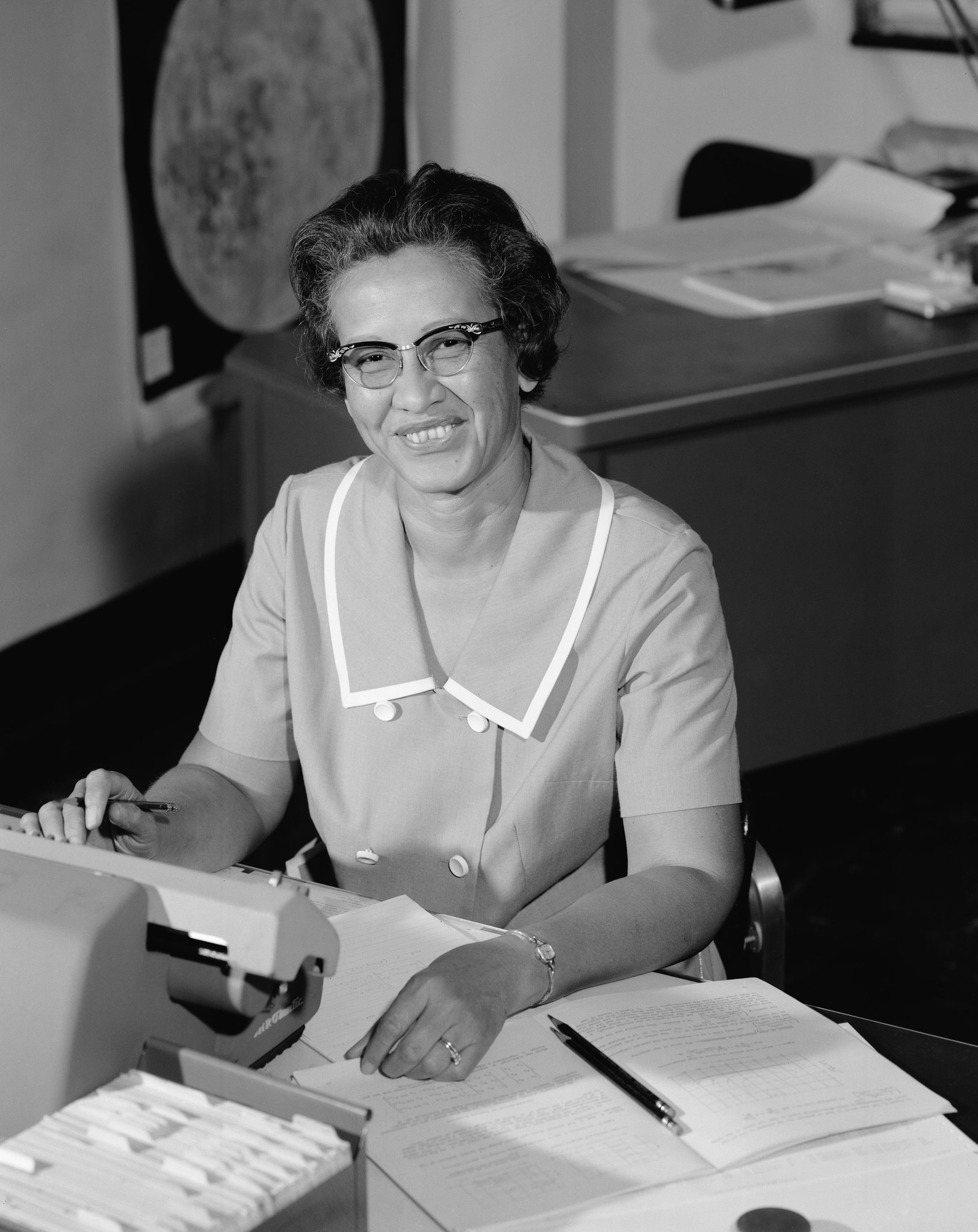 Katherine Johnson,
part of a small group
of African-American women mathematicians
who did crucial work at NASA, in 1966.
Photograph;
NASA/Donaldson Collection, via Getty Images
Katherine Johnson Dies at 101;
Mathematician Broke Barriers at NASA
She was one of a group
of black women mathematicians at NASA
and its predecessor who were celebrated
in the 2016 movie "Hidden Figures."
The New York Times
Feb. 24, 2020 Updated 10:48 a.m. ET
https://www.nytimes.com/2020/02/24/
science/katherine-johnson-dead.html
Hidden Figures
Official Trailer 20th Century FOX 2016
Hidden Figures
Video Official Trailer [HD] 20th Century FOX 2016
HIDDEN FIGURES is the incredible untold story
of Katherine G. Johnson (Taraji P. Henson),
Dorothy Vaughan (Octavia Spencer)
and Mary Jackson (Janelle Monáe)
—brilliant African-American women working at NASA,
who served as the brains
behind one of the greatest operations in history:
the launch of astronaut John Glenn into orbit,
a stunning achievement that restored the nation's confidence,
turned around the Space Race, and galvanized the world.
The visionary trio crossed all gender and race lines
to inspire generations to dream big.
Cast: Taraji P. Henson, Octavia Spencer,
Janelle Monáe, Kevin Costner, Kirsten Dunst,
Jim Parsons, Mahershala Ali, Aldis Hodge,
Glen Powell & Kimberly Quinn
YouTube
https://www.youtube.com/watch?v=5wfrDhgUMGI
Katherine Johnson 1918-2020
born Creola Katherine Coleman
Wielding little more
than a pencil, a slide rule
and one of the finest
mathematical minds
in the country,
Mrs. Johnson
(...)
calculated
the precise trajectories
that would let Apollo 11 land
on the moon in 1969 and,
after Neil Armstrong's
history-making moonwalk,
let it return to Earth.
A single error,
she well knew,
could have dire consequences
for craft and crew.
Her impeccable calculations
had already helped plot
the successful flight
of Alan B. Shepard Jr.,
who became
the first American in space
when his Mercury spacecraft
went aloft in 1961.
The next year,
she likewise helped
make it possible for John Glenn,
in the Mercury vessel Friendship 7,
to become the first American
to orbit the Earth.
Yet throughout
Mrs. Johnson's
33 years in NASA's
Flight Research Division
— the office from which
the American space
program sprang —
and for decades afterward,
almost no one knew her name.
Mrs. Johnson
was one of several hundred
rigorously educated,
supremely capable
yet largely unheralded women who,
well before the modern
feminist movement,
worked as NASA mathematicians.


But it was not only her sex
that kept her long marginalized
and long unsung:
Katherine Coleman Goble Johnson,
a West Virginia native who began
her scientific career
in the age of Jim Crow,
was also African-American.
In old age, Mrs. Johnson
became the most celebrated
of the small cadre of black women
— perhaps three dozen —
who at midcentury served
as mathematicians
for the space agency
and its predecessor,
the National Advisory
Committee for Aeronautics.
Their story was told
in the 2016 Hollywood film
"Hidden Figures," based on
Margot Lee Shetterly's
nonfiction book of the same title,
published that year.
The movie starred
Taraji P. Henson as Mrs. Johnson,
the film's central figure.
It also starred Octavia Spencer
and Janelle Monáe
as her real-life colleagues
Dorothy Vaughan and Mary Jackson.
https://www.nytimes.com/2020/02/24/
science/katherine-johnson-dead.html
https://www.theguardian.com/science/2020/feb/24/
katherine-johnson-obituary
https://www.npr.org/2020/02/24/
517784975/katherine-johnson-nasa-mathematician-
and-an-inspiration-for-hidden-figures-
dies
https://www.nytimes.com/2020/02/24/
science/katherine-johnson-dead.html
https://www.npr.org/2016/12/16/
505569187/hidden-figures-no-more-
meet-the-black-women-who-helped-send-america-to-space
https://www.npr.org/2016/09/25/
495179824/hidden-figures-how-black-women-did-the-math-
that-put-men-on-the-moon
Related > Anglonautes > History > USA > 20th century
in arts, media, science and sports
Apollo 11 > Man on the moon - 20 July 1969
WW2 > African-American soldiers
Related > Anglonautes > History > America, USA
17th, 18th, 19th, 20th century
Related > Anglonautes > History > UK
Related > Anglonautes > Vocapedia
Anglonautes > Arts > Photographers >
20th century > USA > Civil rights
James "Spider" Martin 1939-2003
Ralph Waldo Ellison USA 1913-1994
Related > Anglonautes > Videos > Documentaries > 2010s > USA